Sun City, AZ-Memory Care Communities
What Memory Care Provides
Call today to speak with a Senior Living Advisor!
(602) 413-9158
Emeritus Memory Care
Sun City West, AZ
Emeritus at Sun City West promises to be compassionate and kind, understanding & respectful and to become extended family to the seniors entrusted in our care who have chosen to live in our memory care community. We offer many different programs & amenities all specifically designed for individuals with memory impairment. We take pride in learning about each individual resident & their personal background. Our community is a new home & a new chapter in their continuing life story.
Freedom Inn Memory Care
Sun City West, AZ
Our Clare Bridge Place program serves those with Alzheimer's disease and other forms of dementia. Each day, we promise to work to deliver Daily Moments of Success for each Freedom Inn at Sun City West resident. The Clare Bridge Daily Path provides structure and activities each day designed to meet specific needs of those with dementia, while the Clare Bridge Dining Program, designed by a gerontologist and registered dietitian, helps residents in need of Alzheimer's care retain the ability to enjoy and master the daily dining experience.
Clare Bridge Memory Care
Sun City West, AZ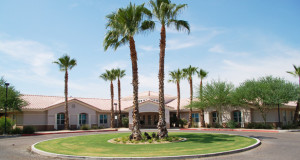 Clare Bridge provides Alzheimer's & Dementia Care for seniors and offers the promise of Daily Moments of Success. Maintaining familiar daily routines is important for our Alzheimer's, dementia and memory care residents. Physical and behavioral needs, as well as life history each play integral roles. Each resident receives and individualized service plan designed to meet their unique needs and to help them feel safe while adding meaning to their day.
Emeritus Memory Care
Peoria, AZ
Set on four acres of beautifully landscaped grounds with exceptionally spacious walking areas, courtyards and gardens; our memory care community offers our residents a wonderful selection of comfort, safety and care. We are a community in every sense, with a loving, compassionate and memory care trained staff, not to mention our community has many opportunities for activities and social engagement for our residents.
Rock Creek Alzheimer's Special Care Center
Surprise, AZ
We understand that caring for a loved one with Alzheimer's disease or a related Memory Loss is a difficult and challenging experience. We also understand that the decision to place a loved one in the care of others is perhaps the most difficult decision you will ever have to make. Our Special Care Center is specifically designed, and our staff is carefully selected and trained, to help ease your mind through the process.